Recording King Dirty 30s RPH-P2-TS Parlour Guitar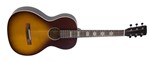 * Shipping price shown uses the cheapest domestic shipping service. More options available at checkout.
Beautiful little slotted headstock parlour.
The new P2 features improved interior bracing, a laser cut hard maple bridge plate, a solid peghead with better tuners, and a more pleasing tobacco sunburst finish.