Recording King RM-998-D Resonator Guitar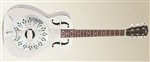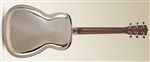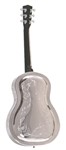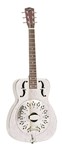 Product Description

Product Specifications
RM-998-D (Nickel-Plated Bell Brass Finish) Modelled after the original pre-war resonator guitars, our Recording King resonators are some of the foremost metal body guitars on the market. Thanks to bodies made from bell brass, they have incredible projection and classic resonator tone. The Recording King Style-O features a 9.5" hand-spun, European made, Recording King cone, a Honduran mahogany neck and a hard maple bridge. From professional artists to beginners, these resonators have made a huge impression on players.
Full Specifications of Recording King RM-998-D Resonator Guitar
Body: Nickel-Plated Bell Brass
Neck: Honduran Mahogany
Fretboard: Rosewood
Cone Material: Hand-Spun Aluminum Cone, Recording King, 9.5"
Coverplate: Chicken Feet (RM-998-D)
Headstock: Plated Recording King Logo
Tailpiece: Bell Brass
Bridge: Hard Maple with Ebony/Maple Saddle
Position Markers: M.O.P. Dot
Tuners: Nickel-Plated
Nut, Width: 1-11/16"
Scale Length: 24-7/8"
Depth: 3.5"
Upper Bout: 10-3/8"
Lower Bout: 14-3/8"
Body Length: 18-1/8"
Total Length: 38.5"
Finish Options: Nickel-Plated Bell Brass
No stock, please call.