Savannah SB-100 Resonator Banjo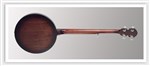 Product Description

Product Specifications
Savannah by Recording King Resonator Banjo, 5 String.
The Savannah is a great value resonator banjo, with a neck that's not too slim and with a string spacing that means it's easy to play for a beginner.
Superb build quality and sound.
Full Specifications of Savannah SB-100 Resonator Banjo
Mahogany Resonator with Thumb Screws
Mahogany Neck
Laminate Maple Rim
Geared 5th Peg
Individual Geared Tuners
24 Brackets
No stock, please call.